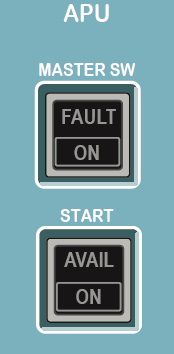 MASTER SW pb
Controls the APU operation and its starting and shutdown sequences.
OFF: APU is off, or APU is in manual shutdown sequence:

ON light on the MASTER SW pb-sw, and the AVAIL light on the START pb go out.
If the aircraft was using APU bleed air, the APU keeps running for a cooling period of 60 to 120 s.
At 7 % the air inlet flap closes.

ON: APU is in operation, or APU is in starting sequence:

Electric power goes to the APU system; the ECB performs a power-up test.
APU air intake flap opens.
APU fuel isolation valve opens.
If no fuel tank pump is running, the APU fuel pump operates
If the aircraft has ground power or main generator power, the APU page appears on the ECAM display.

FAULT: Amber light and ECAM warning, if an automatic shutdown of the APU can happen in case of:

Fire (on ground only)
Air inlet flap closed
Overspeed
No acceleration
Slow start
EGT overtemperature
No flame
Reverse flow
Low oil pressure
High oil temperature
DC power lost (BAT OFF when aircraft on batteries only)
Overcurrent
Sensor failure
IGV failure
ECB failure
No speed
Underspeed
Loss of overspeed protection
Oil system shutdown
Inlet overheat
Clogged oil filter
Loss of EGT thermocouples
START pb
OFF: APU is off.
ON: APU start sequence is in progress –

When the flap is completely open, the APU starter is energized
1.5 s after the starter is energized, the ignition turns ON
When N = 60 %, the APU starter is de-energized, and the ignition turns OFF
2 s after N reaches 95 %, or when N is above 99.5 % the ON light on the START pb goes out
10 s later, the APU page disappears from the ECAM display

AVAIL: APU is started, and can supply bleed air and electrical power to the aircraft systems. The AVAIL light comes on when N is above 95 %.