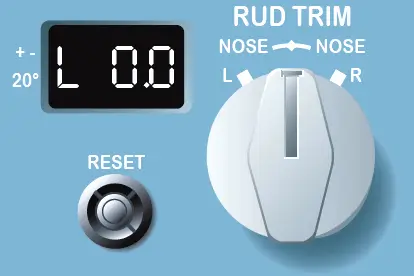 RUD TRIM rotary selector
Controls the rudder trim actuator, which moves the neutral point of the artificial feel by the equivalent of one degree of rudder travel per second.
Note: The rudder trim rotary selector has no effect, when the autopilot is engaged.
RESET pb
By pushing the RESET pb, the zero trim position is ordered at 1.5°/s. After the reset, an indication of up to 0.3° (L or R) may be observed in the rudder trim position indication. 
Note: The RESET pb is not active, when the autopilot is engaged.
Position Indicator
Displays the rudder trim direction (L or R) and value.