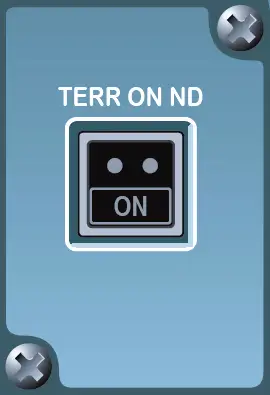 There are two PBs on the instrument panel for both NDs. These pbs are on both sides of the ECAM. Each pb controls the onside terrain display.
ON: The ON light comes on. The terrain appears on the ND if all of the following apply:

TERR ON ND pb-sw is set to ON
TERR FAULT light is not on
TERR STBY ECAM memo does not appear
The FMGS navigation accuracy is high.

OFF: The terrain data does not appear on the ND.
NOTE
If the predictive functions of the GPWS generate a caution or a warning, while the TERR ON ND pb is off, the terrain automatically appears on the NDs and the ON light of the TERR ON ND pb comes on.
To be able to identify the difference between the terrain and the weather display, the terrain display goes from the center outward to both sides of the ND.
The terrain and obstacles image appears on the ND if:

The aircraft is within 2000 ft above the terrain, and
The TERR ON ND pb is passed, or automatically, in case of terrain caution (warning) alerts.

Depending on the capacity of the TAWS system installed (e.g. with Eleview or Peaks functions), the terrain can display the highest and lowest geographic terrain elevations for the selected ND range. The terrain can also increase situation awareness, regardless of the aircraft altitude.
If the terrain (obstacle) image is being automatically displayed on the ND, if the flight crew presses the TERR ON ND pb, the terrain (obstacle) image no longer appears.