Aircraft Servicing Arrangements
Ramp layouts show typical aircraft servicing arrangements. These typical ramp layouts, showing the various GSE items in position during typical turn-round scenarios of the aircraft. Each operator will have its own specific requirements/regulations for positioning and operation on the ramp.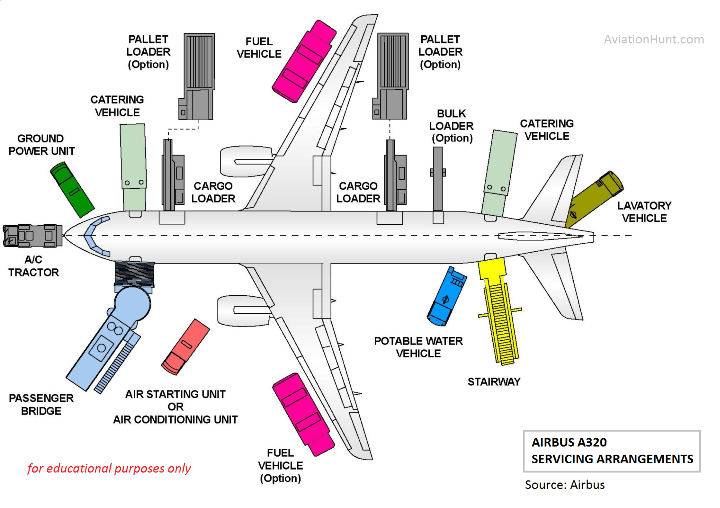 Stand Safety Line
As per Airbus A320 AC, The Stand Safety Line delimits the Aircraft Safety Area (minimum distance of 7.5 m from the aircraft). No vehicle must be parked in this area before complete stop of the aircraft (wheel chocks in position on landing gears).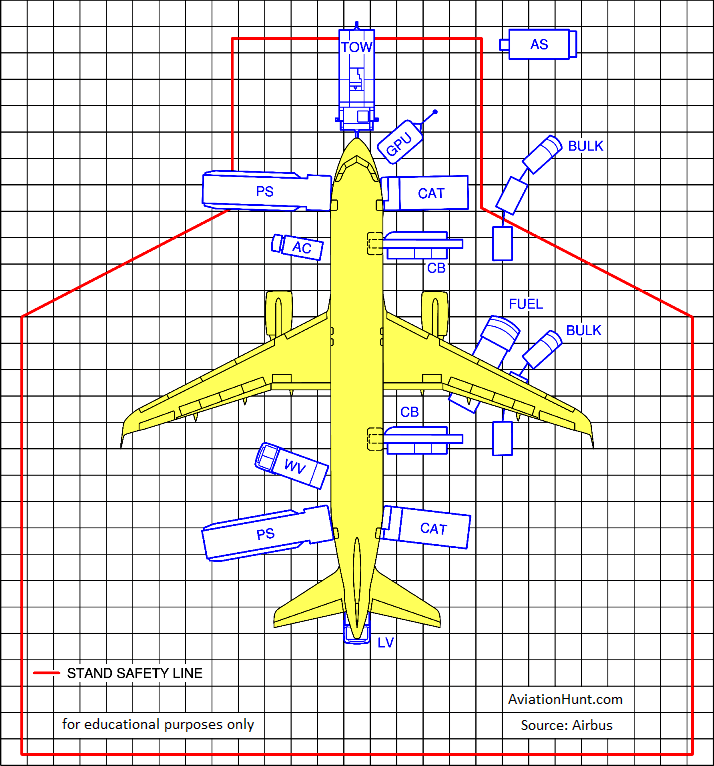 Ground Support Equipment
AC – AIR CONDITIONING UNIT (or ACU)
AS – AIR START UNIT (or ASU)
BULK – BULK TRAIN
CAT – CATERING TRUCK
CB – CONVEYOR BELT
CLEAN – CLEANING TRUCK
FUEL – FUEL HYDRANT DISPENSER or TANKER
GPU – GROUND POWER UNIT
LDCL – LOWER DECK CARGO LOADER
LV – LAVATORY VEHICLE
PBB – PASSENGER BOARDING BRIDGE
PS – PASSENGER STAIRS
TOW – TOW TRACTOR
ULD – ULD TRAIN
WV – POTABLE WATER VEHICLE